21 Jaw Dropping Sights to See in Morocco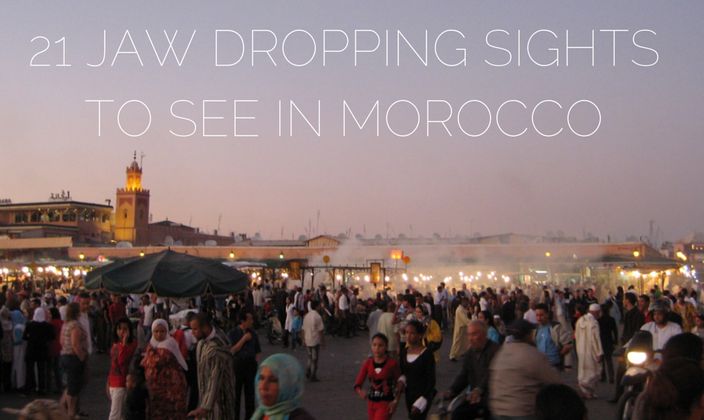 From the crazed crowds of Jemaa el-Fnaa in Marrakech and the dry, fiery heat of the Sahara Desert, to the rugged cliffs of the North Atlantic coastline and the snowy peaks of the High Atlas Mountains, Morocco is utterly diverse and beautiful in every corner of its captivating country. Life is both relaxed and hectic; it completely depends on where you are. Soak up the sounds, smells and sights of the souks, take in the romance of Casablanca, or explore the Chouara Tanneries of Fez; wherever you go, you'll be enchanted by the magic of Morocco's incredible diversity. If you're planning a trip to this North African gem, here are 21 jaw dropping sights not to be missed.
1| Jemaa-el-Fnaa by Night

This spectacular square is a stage for snake charmers and medicine men in the day, but at night it really comes to life. As the uncomfortable summer heat disperses at twilight, food stalls fill the open space and locals rush to Jemaa-el-Fnaa for an early evening stroll and some delicious street food. The snails are highly recommended; just as good as you might expect in France but at a fraction of the price!
2| Jardin Majorelle

The famous Majorelle Garden is not to be missed if you are Marrakech. Designed by French artist Jacques Majorelle back in the 1920s, this beautiful botanical garden and landscape is like a window into Morocco's French colonial past. The landscape architecture and use of colours is wonderfully thought-provoking and makes the perfect city escape from the capital's crazy hustle and bustle.
3| Leather Souq in Fez
If you're into photography, the Leather Souq in Fez is a dream for any avid SLR shooters. Filled with bright colours and intense leather odours, this tannery is an assault on the senses to say the least –and it shows the leather dying process at several different stages, which makes your trip all the more interesting. You can view the process from a high balcony and the colourful dyes photograph beautifully.
4| Sunrise in Merzouga
Merzouga is a little village in South East Morocco (roughly 20 miles from Rissani and 35 miles from Erfoud) and it's one of the best places to witness a desert sunrise. Some of the sand dunes in the Sahara are as high as over 100 metres and cast the most incredible shadows as the Moroccan sun rises in the sky. Be sure to get up nice and early and don't forget to pack your camera tripod if you're planning on getting the perfect snapshot.
5| The Road of a Thousand Kasbahs
The Dades Valley, also known as The Road of a Thousand Kasbahs, is famed for its beautiful red hues. Stretching over 100 miles from Ouarzazate to Tineghir, it makes for the perfect driving route. High walls (Kasbahs) line the entire route but what really makes this sight so spectacular is the mineral-rich landscape which sparkles in various shades of red, green and even blue.
6| Saadian Tombs

This incredible collection of tombs is one of the must-see historical and architectural sites of Marrakech. Never will you witness so much opulence surrounding the graves of ancient royalty. The intricate detail of the beautiful mosaic is simply breath-taking to look at. Dating back to the Saadian Dynasty, these incredible tombs are from the period between 1554 and 1659; a window into a rich and extravagant past.
7| Marrakech Railway Station

There are only a few train stations in the world that can set you to silence with its beauty; this is one of them. The old station building dates back to 1923 in French Colonial Morocco and its conveniently located just a few minutes' walk from Marrakech's French Quarter. If you're travelling to the capital, be sure to travel by train so you can witness this work of art from French Protectorate times.
8| Casablanca Cathedral

It's one of the most amazing African churches you will see and unsurprisingly it's located in one of Morocco's most romantic destinations. Casablanca doesn't have the exotic charm that other cities offer but there's definitely an air of romance in this rich, cosmopolitan commune. The utterly striking Casablanca Cathedral is an unused cathedral which is a former Roman Catholic church built back in the 1930s. The all-white exterior is all consuming and the decadent interior is bewitchingly beautiful. Built by French architect Paul Tournon, this truly is one of the finest creations from French colonial times. It's almost a shame that it's now an unused building; if you're passing through Casablanca, make sure you stop by to see it.
9| Maarif Neighbourhood

El Maarif is an arrondissement in Casablanca and it's not to be missed. One of the most incredible sights in the city and definitely a point of interest for anyone who loves architecture. It's a strange mixture of art deco design, French protectorate buildings and modern high rises. There's a jarring clash of modern and old and that's what makes it such an interesting neighbourhood. Definitely worth a look if you're passing through Casablanca.
10| Sunset in Marrakech
Head to a rooftop bar near Jemaa-el-Fnaa in Marrakech and you can kick back with a mint tea whilst watching all the lights turn on in the main square as it fills with hawkers, food stalls and locals coming out for their early evening street food. Or set your vision a little further to capture the beautiful city skyline with the breath-taking Atlas Mountains as its backdrop. Café de France has a large rooftop terrace and is definitely one of the best places to see the mountains in the distance.
11| Souks of Marrakech

You may not be looking to buy but the souks of Marrakech are still worth visiting. Tight alleyways are jam packed with endless fabrics, bags and accessories. From homeware and handmade pottery to beautifully woven carpets and rugs, the Moroccan souks are a real sight to see. Stunning with colours and textures, your experience will be heightened by the sounds and smells as you walk through. Whether you're shopping for souvenirs or just browsing for fun, walking through the souks will be a unique experience – and a great way to meet the local people.
11| Low Atlas on Camel

The Atlas Mountains isn't just reserved for seasoned trekkers and adventure tourists. Low Atlas can be toured by camel, on bike or on foot and you will be blown away by the views. Although exploring the Atlas Mountains has become more popular over the years, bumping into other hikers is still a rare sight. The mountain range is far from crowded so you can enjoy natural beauty that hasn't been spoiled by tourist footfall. Stay in a Berber lodge to get the full experience.
12| Tizi n'Tichka Pass
For those who are aiming for the top, the Tizi n'Tichka Pass is a truly remarkable vision. Linking Marrakech to Ouarzazate, this road takes you through High Atlas. Whilst the road begins in a perfectly straight line out of the capital, it soon meanders and curls around Oued Ghdat Valley and twists and turns all the way to Upper Taddert.
13| Jbel Toubkal
Jbel Toubkal is the highest peak of the Atlas Mountains. Topped with snow, it's certainly a visual contrast to the soaring heat and dry dessert down below. The Kasbah du Toubkal is set at the foot of Jbel Toubkal and offers a great base for your journey to the top. The traditional design of the rooms and wonderful terrace views make it all the more special. But when you complete your trek to the top of the peak, that's when the real magic begins. Don't forget to take a good camera if you don't mind carrying the extra weight.
14| The Streets of Chefchaouen

Sometimes it's the simple things in life that surprise us. Stroll through the city of Chefchaouen in daylight and you will know exactly what we mean; beautifully painted with the brightest blue hues, this Berber city is a vision with a difference. Contrasting with the rugged mountains in the distance, this blue city in North West Morocco is definitely worth a visit. Get as high as you can in the surrounding hills and you can capture the image of artificial sky blue buildings tumbling down the lush green hillside. Looks spectacular at sunrise and even better in the brief moments of twilight.
15| Amizmiz
Amizmiz is a small town just 35 miles from Marrakech. Tucked into the striking Atlas Mountains, this is a miniature paradise with outstanding panoramas and incredible natural beauty. From Amizmiz, you can get to the stunning Lake Lalla Takkerkoust. Lake Lalla Takkerkoust is a manmade lake which has become a popular destination with Morocco's city dwellers. It's the perfect spot for enjoying a picnic or a glass of refreshing mint tea.
16| Agadir Beach

It's been branded the "Miami of Morocco" by some, but quite honestly Agadir doesn't have the same levels of glamour, which in itself is actually a very good thing. The beach retains much of its rugged charm which makes it all the more special. And although just an ordinary beach (as delightful and exotic as it is), it's when the sun goes down that something really starts to happen. As the sky turns a darker shade, the Atlas Mountains in the distance light up and locals fill the streets to embrace the cooler temperatures of the night.
17| Todra Gorge

The Todra Gorge is a canyon in the Eastern part of High Atlas. The river which once ran through the gorge has carved a spectacular ravine with walls on both sides as high as 160 metres. Because of the sturdy rockface in the canyon, it's become a popular destination for climbers but a simple walk is all you need to soak up the natural phenomenon of Todra.
18| Oukaimeden

Morocco has one of the most diverse landscapes in the world, and in this country of contrasts lives some amazing surprises. Oukaimeden is Africa's highest ski resort and it offers some of the most spectacular snow covered panoramas of the Atlas Mountains. The possibility of skiing in Morocco is a surprising novelty in itself when temperatures are as high as 40°C in central Marrakech. But what makes it even more wonderful is that ski passes and equipment hire are at the fraction of a price when compared to other ski resorts in the world where prices are notoriously extortionate. The slopes are ideal for intermediates or beginner skiers who are looking for the perfect introduction to winter sports.
19| Volubilis

This UNESCO World Heritage Site is located near the Berber city of Meknes (between Fez and Rabat) and features some of the most incredible ruins from the 3rd Century BC. Volubilis was ruled by the Romans until 285 when local tribes took power – but by the 11th Century, the city was completely abandoned when residents moved their settlement to Fez. Today the ruins are listed as a UNESCO site for being "exceptionally well preserved" and is a shining example of a large Roman colonial town.
20| Erg Chebbi Dunes

No journey to Morocco is complete without exploring the beautiful, vast dessert. The arid Sahara is beautiful at sunrise, sunset or by starlight. To really capture the true magic of the Sahara, we would definitely recommend an overnight camping experience; all of our camping packages are half-board to make it convenient and stress-free. From a luxurious wooden bivouac to a camel-skin tent, we have so many options to make your camping experience as unique as possible. And one of the must-see sights is the Erg Chebbi Dunes in Merzouga. As one of the two Saharan ergs, it's not to be missed.
21| Kasbah Telouet

A strange labyrinth of secret doors and passages, it's been said that the Kasbah Telouet is comprehended by no-one and an eternal mystery to all. This extraordinary enigma of rooms and corridors is one of the most amazing sights in the Atlas Mountains; of all the Kasbahs, this is the one to stop for. The rooms, although plainly designed with very little detail left to tease the eye, still causes so much theatre for anyone who visits. Just from the sheer complexity of the rooms, it's believed that no-one has ever known their way around it fully.