Is Morocco Safe?
Whilst I understand that you may have worries about Morocco being affected by the threat of terrorism, it is important that you know the following before making up your mind… You may be planning a safer holiday to France, Spain, Greece, Thailand or any number of other 'so called' safe destinations BUT you may not have realised that the Foreign Office is warning of equally high risks in all of those countries.
Morocco is at no more risk of terrorism than any other European country today. ISIS terrorist cells are living amongst us here in the UK and in all other European countries. They have struck within Europe only recently in France and a few months ago in Denmark. This is why we feel that it is worth knowing that Morocco is no less safe than any of these other places.
Please read below to see the Foreign offices alerts around Europe and further afield:
In the Telegraph on 01 July 2015
Mapped: Where in the world is safe for Britons? From The Telegraph on 1 July 2015. Morocco has no travel warning.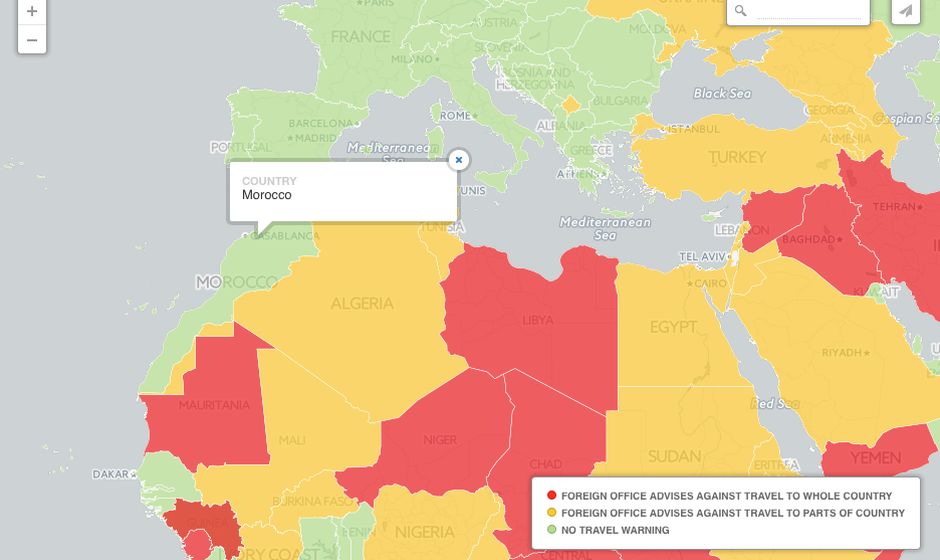 Mapped: Terror threat around the world from The Telegraph on 01 July 2015. The UK is at 'high risk', Morocco is listed as 'general threat', less likely than the UK.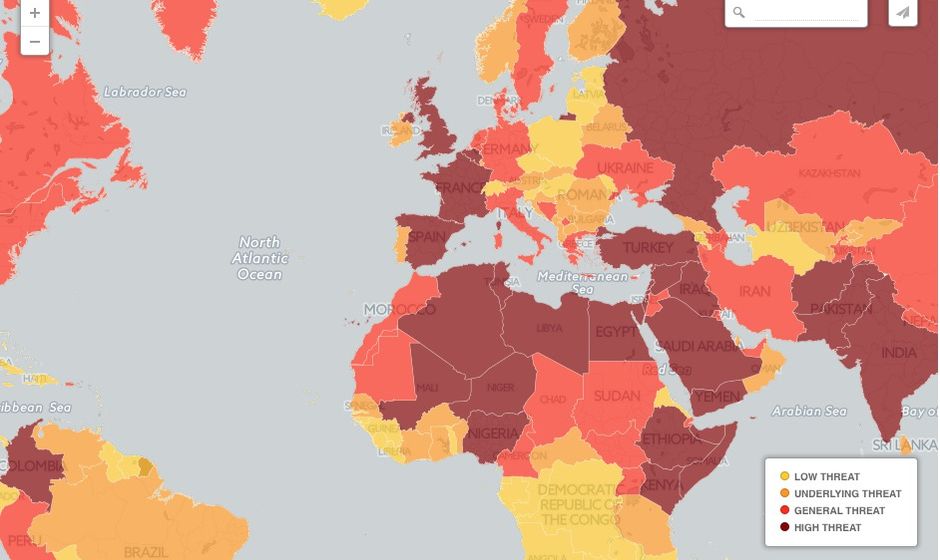 The following excerpts are taken from the UK Foreign Office site www.gov.uk on 01 July 2015:
Morocco
Around 500,000 British nationals visit Morocco every year. Most visits are trouble-free.
There is a general threat from terrorism. The Moroccan authorities have warned of an increased threat linked to the growing number of Moroccans belonging to international terrorist organisations operating in Syria and Iraq. As a result, increased security measures, including additional security personnel may be visible in certain areas.
France
There is a high threat from terrorism. An attack took place on 26 June, at Saint Quentin Fallavier near Lyon. French authorities are treating this as a terrorist incident. Due to ongoing threats to France by Islamist terrorist groups, and recent French military intervention against ISIL, the French government has warned the public to be especially vigilant and has reinforced its security measures.
Previous incidents, attributed to Islamist extremists, have included the shooting of 3 soldiers and 4 civilians in the Toulouse area, a knife attack on a soldier at La Défense near Paris and a grenade attack on a Jewish mini-supermarket in Sarcelles.
There have been a number of explosions, failed explosions and other attacks in Corsica. Government buildings, restaurants, police vehicles, bars, a discotheque and holiday homes have been targeted. The authorities believe the Corsican nationalist group the FLNC are responsible, and have warned that attacks could escalate.
Spain
There is a high threat from terrorism. Attacks could be indiscriminate, including in places visited by foreigners. The Spanish authorities take measures to protect visitors, but you should be vigilant and follow the instructions of the local authorities.
In 2015, Spanish police have disrupted a number of groups suspected of recruiting individuals to travel to Syria and Iraq. Some of them expressed an intention to carry out attacks in Europe. Spanish authorities believe that a number of Spanish nationals have successfully travelled to Syria and Iraq.
Denmark
There is a general threat from terrorism. Attacks could be indiscriminate, including in places frequented by foreigners.
On 14 and 15 February 2015, 2 shooting incidents occurred in the Østerbro and Krystalgade areas of Copenhagen. Two civilians were killed, 5 police officers were wounded and the suspected perpetrator was shot dead by Danish police. The Danish authorities consider both incidents to have been linked and terrorist-related.
Greece
There is a general threat from terrorism and acts of political violence. Attacks could be indiscriminate, including in places frequented by foreigners. High profile British interests in Greece should be vigilant and regularly review their security measures.
Thailand
There is a high threat from terrorism. Bomb and grenade attacks have been indiscriminate, including in places visited by expatriates and foreign travellers. There have been attacks in the past in the main cities of Thailand, including in Chiang Mai in 2010 and in Bangkok in February 2012. In February 2015 there were two explosions at the Siam station of Bangkok's Skytrain (BTS) system, near the entrance to the Siam Paragon shopping mall. Police say they were caused by small improvised explosive devices. One person was injured. On 10 April 2015, a car bomb exploded in the underground car park of the Central Festival shopping mall in Bho Phut on the beach resort island of Koh Samui. Seven people were injured, including one foreigner. You should remain vigilant and keep abreast of local security advice and media reports.
Bali / Indonesia
There is a high threat from terrorism. Terrorist groups continue to plan and carry out attacks. These groups have the capacity and intent to carry out attacks at anytime and anywhere in the country.
Even though the Indonesian authorities have successfully disrupted attack planning in the recent past, the threat from Islamist extremism remains high.
Not going to Morocco is exactly what the terrorists want us to do.
Thinking of abandoning your Morocco travel plans?
This is exactly what they want holidaymakers to do and this is how they will wreak far greater havoc in these countries than simply by killing tourists.
The consequences for the vast majority of people living in these countries will be extensive and will create such a huge drop in employment within the tourism industry that the their livelihoods will become compromised and therefore they are punished for the madness of these few terrorists.
I do seriously hope that you will consider a Morocco holiday as I am sure that you realise that you are in as much danger of being attacked on holiday in most European countries / cities as you are in Morocco. The reality is that we are actually far bigger a target in Europe than tourists are in Morocco. These people want to hit us where it really hurts and unfortunately, this is going to mean that our own countries will undoubtably be hit in the coming months.
I lived in Morocco for over a decade and have known Morocco for over 30 years, through the terrible times of the two gulf wars when badly informed tourists cancelled holidays to Morocco in fear of something happening there. This despite Morocco being over 3000 miles from the war itself, I feel very strongly that it is not only futile to attempt to avoid one's fate by avoiding Arab countries but is also unsupportive of the people within these countries.
We really need to stand up to these terrorists and show them that we will not be broken by their cowardly actions. For this reason, the foreign office has abstained from warning against travel to these countries as they know now that these attacks have and will be happening in France, Spain, Denmark and many other places over the coming months and years.
I do hope that you will consider a holiday to Morocco. I will be going this Summer for 3 weeks with my wife and children and I hope that I can tempt you to join the ranks of those who refuse to be beaten!
Max Lawrence
Managing Director, Lawrence of Morocco Ltd