Thinking of a Moroccan family holiday - check out our recommendations
Morocco is a great place to take a family holiday. The country has such a richness of culture, vibrancy, jaw dropping sites and amazing activities you'll have no trouble choosing an itinerary to keep all the family engaged and amused.Whether you are looking after quite small children, tweenies, or the dreaded teenager, we recommend a variety of sites, locations and activities which reflect the ages and interests of you and your kids.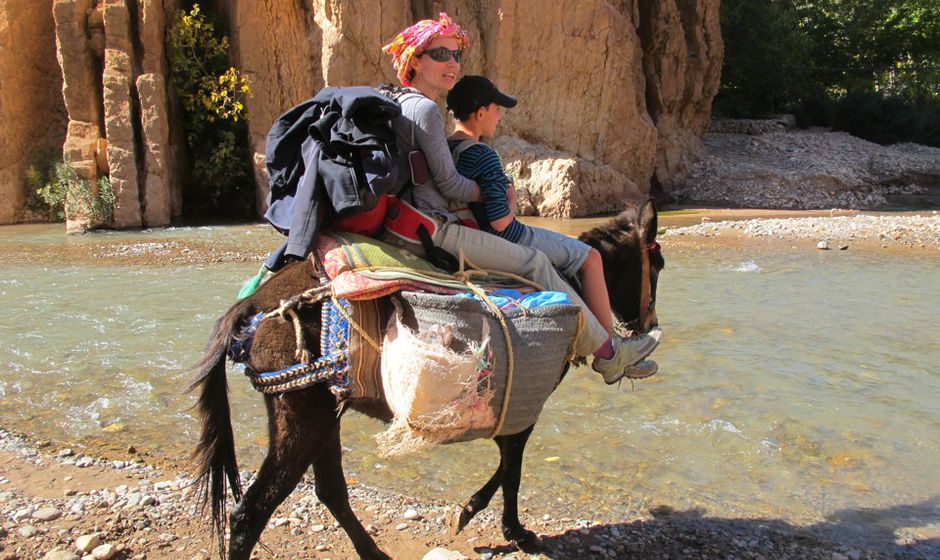 Planning the Perfect Itinerary
Adventurous families who have two weeks available to explore Morocco will be able to enjoy a wide range of unforgettable experiences. Below is just a snapshot of what this unique country can offer you and your family.
Our ideal trio: the Atlas mountains, Marrakech and the Atlantic coast
Immerse yourself in some stunning scenery deep in the Atlas mountains and, if some or all of you are you are up for it, why not book an energetic mountain biking day? With professional guides, back up vehicles and all the gear you could wish for, this is one activity which will prove a hit with the more active kids, but with routes tailored to suit for all levels of biker. We guarantee that once you've experienced the mountain routes, the post activity chill by the pool will have never been so inviting, nor deserved.
In Marrakech itself, the souks and squares with assortments of monkeys, snake charmers and acrobats will prove an immediate source of wonder for children of most ages, and even if parents have seen this kind of street performance before, the setting in the heart of Morocco is just fabulous. The city is a unequalled experience of North African culture and life.
With Marrakech behind you, it is time to head on to Essaouira or Oualidia on the picturesque Atlantic Coast. For the active, it's one of the best places for surfing (the atlantic breakers are particularly renowned in these parts) and kiteboarding with plenty of wind and room. For the more leisurely ocean experience, why not turn your hand to fishing before moving on to Southern Morocco.
Or if you wish to spend more time in certain regions of Morocco here's a few pointers to help you and your tribe make the most of your stay.
Skoura
This fertile oasis is nestled in the Dades Valley and offers an insight into traditional Moroccan life. This is the perfect place to pause while exploring the Dades Valley, which is also known as the valley of a thousand Kasbahs. Among the attractions in Skoura that are just waiting to be discovered by families are the Kasbah Amerhidl which dates all the way back to the 17th century and the Dar Ait Sidi el-Mati Kasbah. These traditional Kasbahs are large and luxurious and resemble palaces and are surrounded by palm trees. Other activities that families can enjoy while spending time in Skoura include going on a walking trek and riding a donkey through the Dades Valley to experience the area in a unique way that children in particular are sure to love.
Todra Gorge
This large and lovely gorge is the perfect place for nature lovers to explore and this is also a good place to learn about the Berber culture. Hiking through the Todra Gorge is a great way to get a feel for the intense natural beauty of the area and visitors can use the city of Marrakech as a base while they explore. There are also a number of other interesting towns to spend time in here such as the small Berber town of Amizmiz with its large Berber souks and the town of Oukaimeden that boasts a popular ski resort.
Ait Ben Haddou
This impressive UNESCO World Heritage Site can also be found nestled in the Todra Gorge and is a traditional mud brick village that has featured in several famous films such as Lawrence of Arabia. Wandering through the winding lanes of the town to admire the mud buildings is an enchanting experience, while visitors can climb to the top of the main hill here to take in spectacular panoramic views of the area and explore the granary.
Draa Valley
Spending the night in the desert in a luxury camp is an experience that families should not miss while visiting Morocco. After driving through the enchanting Draa Valley you can pause at Zagora before heading to Erg Chigaga to spend the night underneath the stars. The luxury camps here provide first class accommodation as well as a good range of amenities for families, while waking up in the morning surrounded by sand dunes is an experience that the whole family will never forget.
Iriki Desert
There are also lots of other adventure experiences that families can take part in together in the Iriki Desert lake area. Here you'll find some serious dune fun! With 4x4 for hire, its a chance to go off road in scenery resembling the set of Lawrence of Arabia.
Want to try something at a slightly slower pace? How about camel riding across the sand dunes for another unique family experience. Instagram-friendly selfies with the camels afterwards are optional of course!
If you want to make the most of all that Morocco has to offer and put together that ideal trip perfectly tailored for you and your family, then create your very own 'Morocco wish list' on this site by adding destinations, hotels and activities. Or, if you have questions you need answers to, then please don't hesitate to get in touch with our team and let us help put your perfect trip together.