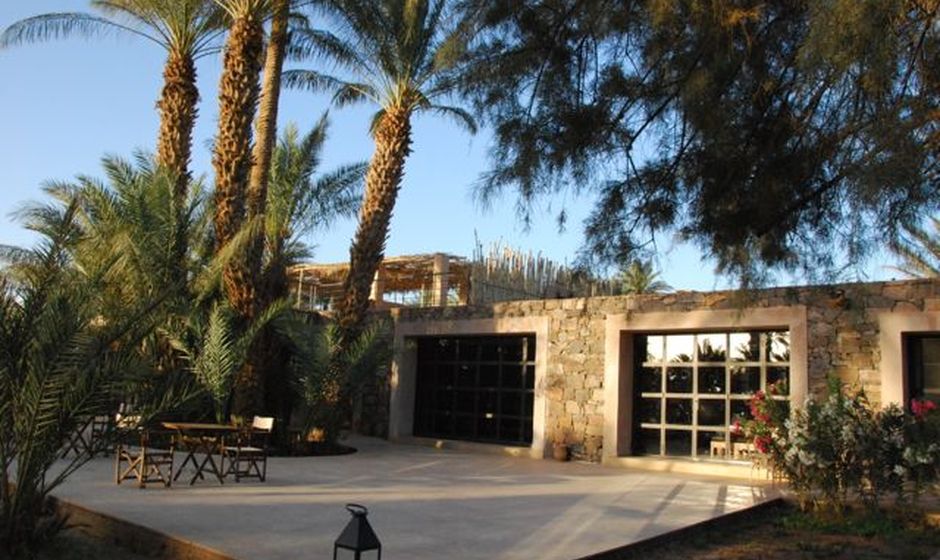 Southern Morocco by Fiona Dunlop
Freelance travel writer, Fiona Dunlop, travelled to Southern Morocco with Lawrence of Morocco in April 2013, writing for the Independent.
Azalai Desert Lodge experience

One of the nicest things about Azalai Desert Lodge is the back gate. What I mean here is not a fast escape but instant access to the palmeraie. This environmental treasure, which Azalai owner Bouchaid rightly says should be given World Heritage Status, is a dream, and starts right on the doorstep - or rather at that back gate.

The sun was just rising when I decided to explore beyond the walls of this sleekly designed, 8-room lodge, a welcome stop on the long and dusty road back from the desert. I had arrived exhausted the previous afternoon, but after a few hours in the cossetting ambiance recovered enough to indulge in an ambrosial dinner designed by Khouloud, Bouchaid's wife. So now, stepping out of the comfort of my stone-clad room (incdentally dedicated to that great French writer-explorer, Pierre Loti), I followed a path through the garden of tamarisks, palm and pepper-trees, past the pool, then quietly unlocked the back gate.

I was pitched straight into another world, one of dirt tracks, endless red ochre walls of crumbling mud and mud-bricks, layer upon dense layer of palm-trees and, in between, fields of wild grasses. A donkey grazed in one open patch, a pile of freshly made bricks stood beside another, both essential elements in the traditions of the palmeraie. I later learned that this vast palm grove in fact extends about 200 km, right down the spectacular Valley of the Draa as far as M'hamid, the last outpost before you enter deep, sand-duney Sahara. Half the dates of Morocco are produced in six oases dotted along its length, while basic agriculture is helped by wells to obtain increasingly rare water, although desertification is a huge concern.

As I meandered through this dream-world in the soft early light, an accelerating flow of donkey-carts rattled past, each one driven by a berobed man who raised a hand in silent greeting. I soon realised these were villagers on their way to the twice-weekly market at Zagora, the big town 5 km to the south. Then, finally, behind another screen of palms I came to a huge complex of mud houses. It was stunning, with a fortified tower looming above walls that snaked behind to enclose the courtyard houses of the hamlet. Some were obviously not maintained but I could hear voices, and one family (all male) happily posed for a photo.

Young girls, screaming with delight, started playing hide and seek with my camera, then one of them very seriously led me to a field to show me what must have been her family well - a precious asset. Nearby older Berber women in brilliantly coloured skirts were already hard at work, picking mounds of animal feed. It all felt incredibly ancient, until a man in a windjacket and helmet puttered past on a motorbike.

On my return to the distinctly more refined and ordered world of Azalai, breakfast was being set up on the roof terrace, a glorious spot shaded by a canopy of palm fronds, with views over the palmeraie. Khouloud, as animated as ever while keeping an eagle eye on the kitchen and staff, was already up and chatting with other guests. The sun rose higher, the cerulean of the sky deepened, the heat intensified and another day broke at Azalai.
The Azalai Desert Lodge photos on this page are copyright of Fiona Dunlop.