Morocco's Seven Finest Riads to Stay in
People who are planning a holiday in Morocco will find that staying in a riad will be an unforgettable experience. This most traditional of Moroccan houses is arranged around a central courtyard or garden (which harnesses ventilation to provide cooling) where guests can meet, sit, chat and unwind. Most leading riads come complete with luxurious
decorative touches that make them very elegant and comfortable. Here's a selection of seven of Morocco's best riads for you to choose from: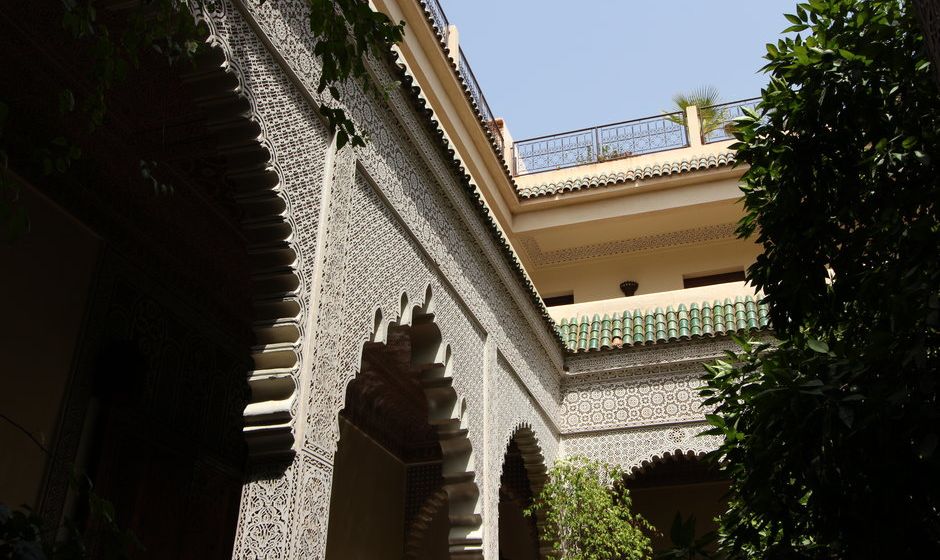 Villa des Orangers
This enchanting five-star riad is set in the very heart of Marrakech and provides a luxurious oasis for you to decompress from the hustle and bustle of the markets. The 27 large rooms are decorated in warm citrus tones and come complete with a range of modern conveniences and large balconies. Guests will be able to relax in style in the onsite spa, while the roof terrace offers inspiring views of the Atlas Mountains. Visitors will also want to make sure they sample a delicious Moroccan meal in the riad's excellent restaurant.
La Sultana Oualidia
Situated on the edge of an impressive lagoon, La Sultana Oualidia offers pure luxury and tranquillity as well as convenient access to the city of Marrakech. There are just eleven spacious rooms to choose from here, each of which is equipped with luxurious touches such as plasma screen televisions and marble bathrooms, while guests will want to spend plenty of time enjoying the private sea water Jacuzzis on their balconies. Lovers of fresh
seafood will be in their element here and the unique sunken restaurant offers oysters and a range of other local treats to sample.
Riad Camilia
With just six spacious bedrooms, the luxurious Riad Camilia offers guests a friendly service and plenty of luxurious and homely touches to enjoy. This stunning riad is set in one of Marrakech's most popular districts and offers a wide range of attractions and amenities set within easy walking distance. However, people who choose to stay at Riad Camilia will never need to venture far, as it boasts a charming courtyard pool that is fringed by orange
trees as well as private balconies and an elegant tree-lined terrace.
Les Deux Tours
Situated in a picturesque palm grove, Les Deux Tours is just a short drive from Marrakech and is famous for its impressive private bathrooms with domed ceilings. Guests are sure to love the heated swimming pool, while excellent Moroccan meals are just waiting to be enjoyed after pampering with a massage from the onsite spa.
Dar Ayniwen
Each of the rooms at Dar Ayniwen is well appointed and sumptuously decorated in rich red and gold colours with large sofas, colourful rugs and traditional curtains over the four poster beds. This has long been one of Morocco's most popular riads and the private marble steam bath is just one of the features that is sure to appeal to lovers of luxury.
Riad Maison Bleue
This enchanting riad is perched on a hillside overlooking the historical quarter of Fes, while the city's vibrant souks are just a short walk away. The Riad Maison Bleue fully embraces Moorish elegance from its stained glass windows to the intricate plasterwork, while guests are sure to enjoy taking a stroll through the leafy courtyard and dining in style on Moroccan cuisine on the rooftop terrace.
Riad Kalaa
Built in the 19th century, the Riad Kalaa perfectly reflects Moroccan tradition and is one of the most luxurious places to stay in the city of Rabat. The roof terrace comes complete with a swimming pool, while spending time in the traditional hammam or modern spa is the perfect way to relax and unwind.