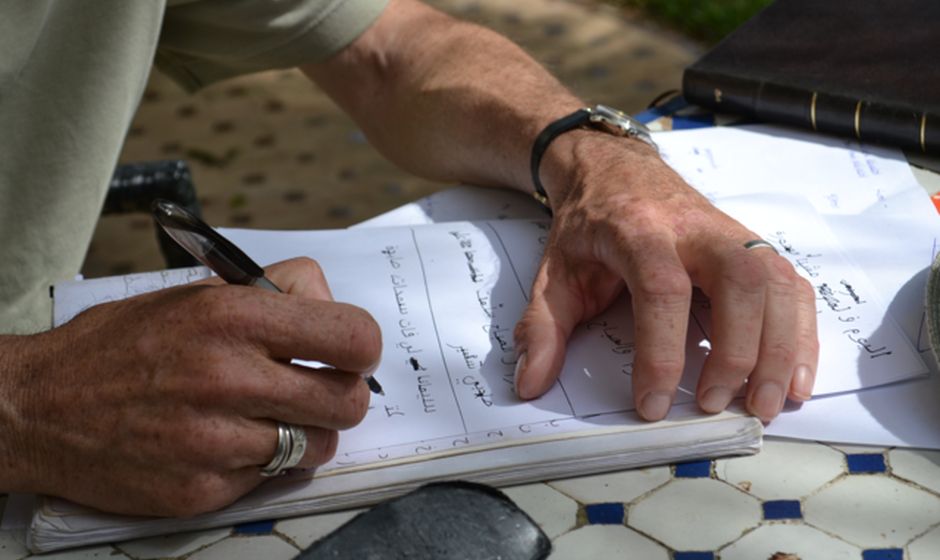 Learn Moroccan Arabic via Skype or have lessons in Marrakech.
Whether you would like to learn a few useful phrases for your upcoming holiday or would like to learn the language fully with a local speaker over the internet using Skype to have one to one language coaching we can offer this at low cost.
Understanding what is being said around you when in Morocco will make your holiday much more interesting and having the thrill of being understood when you buy something, order a meal, or simply to be able to thank someone in the correct way will create good will between you and your hosts and generate lots of warmth, curiosity and kindness as they will see that you are interested in them and their culture.
As someone who lived in Morocco for 12 years and learned Arabic on the streets, I can tell you how much of an advantage I always had over non-Arabic speakers living in Morocco. It opened many doors, made my life much easier and certainly more interesting. Don't be a tourist, be an informed tourist!

PROGRAMS
We offer two basic programmes – short term and long term:
Short term
Perhaps you are considering coming to Morocco on holiday. You would really like to learn a little bit about the culture or just be able to communicate enough to make your visit easier. We have a course designed to quickly teach you the basics of greetings, getting around in a taxi, and bartering at the market. This course can be from just two classes up to a month.
Long term
If you are looking to live and work in Morocco, then learning Arabic is essential. We have a program that can last from two months to two years depending on your desired level of fluency. In this class you can learn all the basics of language like conjugating verbs, forming sentences, and how to communicate like a local. But you will also gain a lot of insight into the culture and worldview of Moroccans. Our teachers are skilled at explaining the culture and customs that you will come across in everyday life.
What will you learn in the first week?
Lesson 1: You'll be able to use and answer common greetings
Lesson 2: You'll be able to ask and answer 'Where are you from?' and 'What is your name?'
Lesson 3: You'll be able to talk about nationality, marital status and religion
Lesson 4: You'll be able to begin counting, talk about your family and ask 'What is that in Arabic?'
Lesson 5: You'll learn vocabulary about food and be able to buy groceries at the market
STUDYING ONLINE
We offer a number of ways for you to learn online – whether you want to kick-start your language study before visiting Morocco, refresh things you've learned in the past, or continue learning Arabic after you've left.
Downloadable Language Sheets
We have a number of language sheets you can download by signing up to our membership scheme – covering basic vocabulary, grammar and phrases in English, Spanish or French with Arabic phonetics.
Live Skype Lessons
We also provide teaching live via Skype, wherever you are in the world. This is the perfect option if you want to learn the basics before visiting Morocco, or continue classes when you have to travel.
Click here to go to our language partners site and sign up now for lessons.